If you're visiting Cycle Show 2017 this weekend you'll find us at Stand K156 in the dedicated E-Bike Area. We're facing the E-Bike Test Ride pit area where we have three dozen bikes of all shapes and sizes, from various brands waiting to be taken round the track. 
50cycles' electric bike experts will be on hand throughout the event to answer any questions and to help you find the best bike for your needs.
 
You can order at the show and we'll deliver or make your bike ready for collection next week. Or pre-order 2018 models from the likes of BeatBike, Cube, Scott,  Riese & Müller, some of which are in stock already (like the 2018 Beat Bike Toba, now with suspension) or are about to come into stock very soon.
Riese & Müller? Yes indeed, we've been mightily impressed by their bikes over recent months and they're set to play an important part in our 2018 range. 
The brand recently took the Readers' Award from a major German e-bike magazine. Well-equipped, refined and stunning to look at, we're very glad to be working with them to bring the most advanced electric bikes to our customers.

We have two Riese & Müller models listed at present, both speed pedelecs able to assist up to 28mph. The Charger Touring HS comes with dual Bosch battery packs giving a new record total capacity of 1000Wh.
See the Riese & Müller Roadster and Charger high speed pedelecs
Cube have already made their mark at 50cycles this season with a range of touring and electric mountain bikes that have proved very popular because they look superb and are incredibly good value. 
Cube have made some major changes to their 2018 e-bike range – better battery placement is the rule, whether it's on their ultra high-end full suspension e-mountain bikes or gorgeous, colourful town bikes like the Elly Hybrid. Bosch motors as standard on all of them.
A couple of 2018 models, the Kathmandu Hybrid Pro 500 and Cross Hybrid Race Allroad 500 are already in stock and available to see at the Cycle Show. 
There's now 10% off our remaining stock of 2017 Cubes, including two Carbon frame e-bikes. 
See our 2017 Cubes in Clearance
See the 2018 Cube line-up
Scott is another brand that debuted for us in 2017. As well as Bosch-powered beasts like the E-Genius and E-Scale range they also offer bikes with Shimano's magnificent E8000 motor and integrated battery system and the super-refined Brose centre motor. You'll find some of these in at end-of-season sale prices, with 15% off in one case…
Scott is a major international brand that has already explored interesting territory this season and they're set to do the same in 2018. An early example is the E-Contessa Genius, a full-suspension, high end e-mtb with the Shimano E8000 motor specifically designed for female riders.
Suffice to say some old favourites will be coming back alongside some all-new models.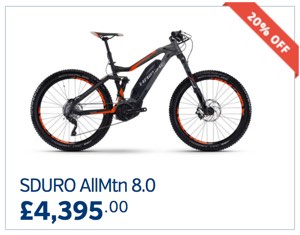 The biggest saving is on the top-of-the-range Haibike SDURO AllMtn 8.0 with £1,100 off. Only two in stock, one each in Small and Medium, and both come with the latest Yamaha PW-X motor, eConnect technology and a dropper seatpost. All this down from £5,495 to £4,395.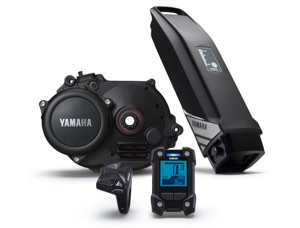 Yamaha's PW-X motor, new for 2017, recently emerged from an independent e-mtb motor comparison last month as 
"the ultimate power package that churns out decent power even with a low cadence." 
It's also found in my personal favourite e-bike, the Winora Yakun from the same manufacturer.
There are also budget Haibike options that pack Yamaha's established PW motor. Its maximum 80Nm torque makes for powerful hill starts yet offers with minimal resistance when cycling above the power-assisted speed.
These start at as little as £1695 for the HardSeven 4.0 (one in stock) and £1675 for the grown-up SDURO Cross 4.0 (one and only one 48cm in stock)
That's all for now, thank you for reading! Maybe we'll see you at stand K156 or on the E-Bike Test Track at the Cycle Show
The 50cycles Team
Latest posts by Tim Snaith (see all)